Will Chelsea Handler's New 'Late-Night' Talk Show Be Netflix's First Big Misstep?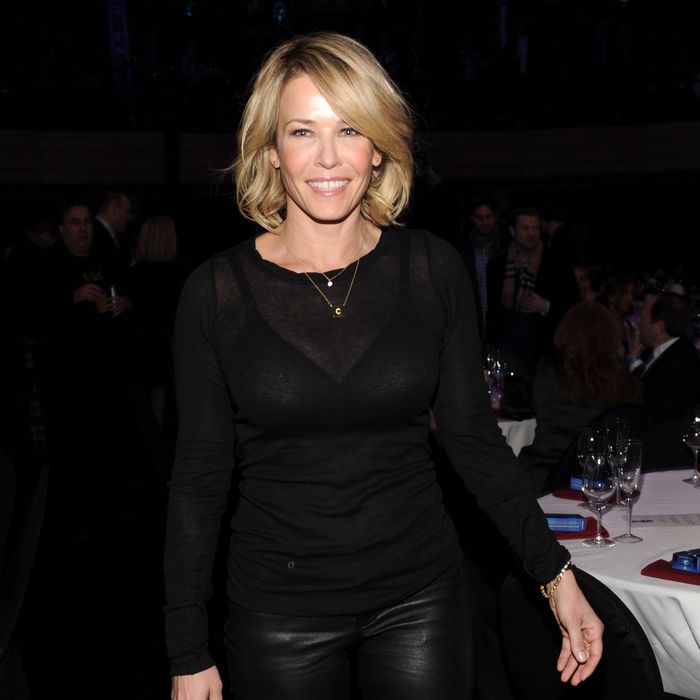 Chelsea Handler attends "Howard Stern's Birthday Bash" presented by SiriusXM, produced by Howard Stern Productions at Hammerstein Ballroom on January 31, 2014 in New York City.
Photo: Kevin Mazur/Getty Images
When Chelsea Handler announced that, after eight years on E!, she intended to leave the network following the expiration of her contract at the end of the year[1], I expected something big. This morning, my expectations were confirmed, with the announcement that Handler had signed a massive deal with Netflix to host a talk show for the streaming site that would air in 2016. (The deal also includes a stand-up special, Uganda Be Kidding Me, which will premiere in October, and four "docu-comedy" specials in 2015, in which Handler tries to learn about a variety of subjects like NASCAR and Silicon Valley.) In a press release, Handler said, "I wanted to sit with the cool kids at lunch so I approached Netflix to make sure they were as cool as I thought they were, and when I confirmed my suspicions, like with any other future lover, I made my move." And she's right: This is a really cool move. It also might be Netflix's first major misstep.
I'm not talking show-wise — one could argue that Lillyhammer, Hemlock Grove, and Derek fall anywhere from decent to subpar on the quality scale. No, I mean in terms of its ambitions. It's clear that Netflix is trying to expand its demographic reach and subscriber base with this play. About the deal, Mr. Netflix, Chief Content Officer Ted Sarandos, said, "The Internet has disrupted many of the conventions of traditional television and together with Chelsea Handler, Netflix is looking forward to reimagining the late night talk show for the on-demand generation, starting with the late night part." The problem is the "late night part" is the part that matters. Well, not the "late," but the implication that the "night" means that night. It's the reason for the medium to exist. Take it away, and what have you got? You can't be topical on demand.
When Jimmy Fallon asked Jay Leno about fitting his Late Night sensibility to The Tonight Show's, Leno told him to make his monologue longer. Immediately that sounds like horrible advice. The monologue is easily the most consistently disappointing part of the late-night format, and there was Leno suggesting more time be spent on it and less time on the fun segments that we associate Fallon with. Leno explained that that's where a lot of people get their news from. It's a fact The Daily Show has confirmed for over a decade. Late-night hosts provide a service, promising to keep their audience informed and to have a take consistent with their point of view. This is not funny two weeks later, let alone two months or two years later. It's barely funny two days later. If Joe Biden or Kanye West does something silly on Monday, you can get comedy from just pointing it out Monday night. By Thursday, they might've done something else sillier, and no one will give any shits about what happened Monday. Even weekly shows are at least somewhat timely, but it can be argued that they suffer. SNL's "Weekend Update," for example, sometimes struggles because it's often the last punch line after everyone else has used up the setup. (Last Week Tonight With John Oliver has skirted this problem by excelling at covering topical stories that no one else is. Based on what we've seen so far, Handler's topical range is somewhat more limited.) Similarly, the late-night interview doesn't necessarily hold up over time. People go on shows to promote certain things. That's why they agree to come on. How exactly will that work here?
Add in the fact that, Netflix being Netflix, they'll likely pre-tape a ton of episodes and dump them all at once, thus allowing viewers to watch them whenever they want. Which sounds good on paper, but not in practice. Sure, most late-night shows will pre-tape, especially episodes that air on Friday, but to pre-tape a large chunk is a different story. Beyond losing the timeliness of jokes, you lose the excitement of the format — that however the host is that day, it's the show. Fans of any given late-night show see their hosts at their best and worst. If they are feeling tired that day, it's in the show. If they are feeling flirty, it's in the show. That might come through at times in Handler's future show, but it won't feel as of-the-moment.
Netflix might argue that I'm being narrow-minded, that I'm too stuck in the past of the format and can't see the future. To that, I tell it to watch The Pete Holmes Show, before it goes off the air soon. Pete Holmes is easily one of my favorite comedians. I love The Pete Holmes Show whenever I watch it. And that's the problem, because that "whenever" ends up not being very often. It's because Holmes aspired to do more with the late-night format by taping it all ahead of time. His sketches were on video and thoroughly written; his monologues were truly enjoyable stand-up; his interviews, conducted with people he actually knew and enjoyed interacting with, were funny. For me, The Pete Holmes Show was the best the late-night talk show format could do. But, again, I never watched. Because why would I? He never talked about things that were happening currently, so it didn't matter if I missed it, as I could always catch up some other time. The problem is I never caught up. There's plenty I need to catch up on, whether it's Archer, It's Always Sunny in Philadelphia, Scandal, Orange Is the New Black, or any number of movies that are conveniently available on Netflix Instant. With Handler, Netflix is forcing the potential audience to do that for every single episode. It's too much for a format as boring as the late-night talk show to sustain.
Netflix has had quite a run with House of Cards, Arrested Development, and Orange Is the New Black, not to mention what it's done with non-original, licensed content, but I fear it has reached the outer limit of its model. I applaud it for trying to update the late-night talk show, but some things are just too antiquated to try to modernize.
Source URL: Read More
The public content above was dynamically discovered – by graded relevancy to this site's keyword domain name. Such discovery was by systematic attempts to filter for "Creative Commons" re-use licensing and/or by Press Release distributions. "Source URL" states the content's owner and/or publisher. When possible, this site references the content above to generate its value-add, the dynamic sentimental analysis below, which allows us to research global sentiments across a multitude of topics related to this site's specific keyword domain name. Additionally, when possible, this site references the content above to provide on-demand (multilingual) translations and/or to power its "Read Article to Me" feature, which reads the content aloud to visitors. Where applicable, this site also auto-generates a "References" section, which appends the content above by listing all mentioned links. Views expressed in the content above are solely those of the author(s). We do not endorse, offer to sell, promote, recommend, or, otherwise, make any statement about the content above. We reference the content above for your "reading" entertainment purposes only. Review "DMCA & Terms", at the bottom of this site, for terms of your access and use as well as for applicable DMCA take-down request.
Acquire this Domain
You can acquire this site's domain name! We have nurtured its online marketing value by systematically curating this site by the domain's relevant keywords. Explore our content network – you can advertise on each or rent vs. buy the domain. Buy@TLDtraders.com | Skype: TLDtraders | +1 (475) BUY-NAME (289 – 6263). Thousands search by this site's exact keyword domain name! Most are sent here because search engines often love the keyword. This domain can be your 24/7 lead generator! If you own it, you could capture a large amount of online traffic for your niche. Stop wasting money on ads. Instead, buy this domain to gain a long-term marketing asset. If you can't afford to buy then you can rent the domain.
About Us
We are Internet Investors, Developers, and Franchisers – operating a content network of several thousand sites while federating 100+ eCommerce and SaaS startups. With our proprietary "inverted incubation" model, we leverage a portfolio of $100M in valued domains to impact online trends, traffic, and transactions. We use robotic process automation, machine learning, and other proprietary approaches to power our content network. Contact us to learn how we can help you with your online marketing and/or site maintenance.